Cycleway re-opening marks milestone in city's flood recovery
Thursday, 23 July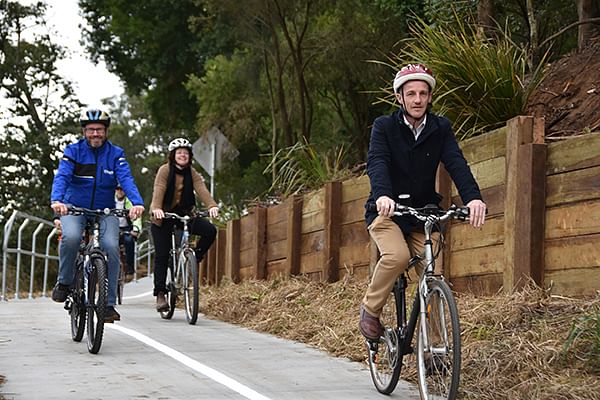 Lismore City Mayor Isaac Smith today officially re-opened the popular Wilson River Cycleway which had been closed for extensive repairs after it was damaged in the March 2017 flood.
The re-opening is a milestone in the city's flood recovery with this infrastructure rebuild marking the completion of works damaged during the 2017 flood.
"The re-opening of the Wilson River Cycleway is great news for those who love to cycle around our city. It is also great news for the whole community as we look forward after the devastating 2017 flood," Mayor Smith said.
"It has taken us time to repair the long list of significantly damaged infrastructure from the flood. Now we can start to put the flood behind us and focus on the future.
"I would like to thank our community who came together in adversity to make sure our city not only survived the flood but prospered into the future. I would also like thank the Federal and State Government's which assisted in our city's recovery through providing much needed grants."
Council received funding under the NSW Government's Natural Disaster Relief Assistance Program to repair the popular cycleway.
The repair work included the installation of 54 new timber piles and a concrete cycleway to allow the community to once again enjoy a bike ride along the Wilson River.
The cycleway is below the Kirklands Carpark along the riverbank at the western end of Magellan Street. It is an important off-road link between Fawcetts Bridge (Lower Hensley Carpark) and the Rowing Club Carpark.
Left to right: Councillors Neil Marks and Elly Bird join Mayor Isaac Smith on a bike ride to officially re-open the Wilson River Cycleway which marks a milestone in the city's flood recovery.