Upgrade of facilities at Lismore and Nimbin Showgrounds
Wednesday, 29 April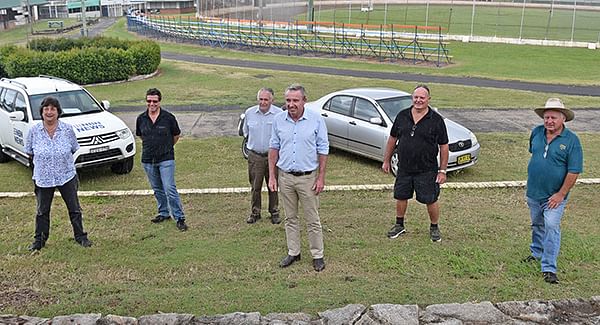 Facilities at both Lismore and Nimbin showgrounds will get an upgrade from Lismore City Council's $1.3 million Federal Government Bushfire recovery grant.

"These upgrades are crucial to make sure our community is safe in times of emergencies," Mayor Smith said.

"Both showgrounds played a crucial role as emergency evacuation centres during last year's bushfires. This grant will allow us to upgrade the facilities at both locations to make sure we can keep our community safe and are prepared for any future bushfires.

"I would like to acknowledge Kevin Hogan and the Federal Government for providing the $1.3 million grant, which allowed us to prioritise where the money was spent after consulting with the community."

Federal Member for Page Kevin Hogan said the projects were great news for the Lismore and Nimbin communities.

"As we saw in the recent bushfires both showgrounds played an important role in providing accommodation those who were forced to flee their homes. I would like to thank both the Lismore and Nimbin Showground committees for opening up these facilities during the emergency," he said.

Lismore Showground president John Gibson praised the efforts of the volunteers and staff of the Lismore Show Society during the bushfires.

"Our Secretary was quick off the mark to open the gates and put the call out to the local community that we were open and ready to assist not only people but also importantly animals in escaping the devastating fires," he said.

The comments were supported by President of the Nimbin Showground Phil Williams.

"Showgrounds are always where the community comes together and nowhere was this more evident than the Nimbin Showground in November when hundreds and locals and their pets and animals sought refuge," he said.
Among nominated projects to be included in the $445,000 upgrade are:
Repairs to ventilation and insulation in top 2 pavilions.

Fit-out of Flood Free Kitchen adjacent to top pavilions

Provision of movable and demountable fencing for animals including off load ramps and gates

Upgrade of 1905 beef/dairy sheds and 1930's horse stables
Among nominated projects to be included in the $445,000 upgrade are:
New awning and concrete slab adjoining main pavilion

Enclose existing large shelter and install roller doors

New awning and concrete slab to existing storage sheds

Rebuild holding yards and shelter for cattle/horses

New kitchen in the main pavilion

New floor coverings to area in main pavilion
A further $240,000 of the grant funding will be invested in improving emergency infrastructure, such as constructing turning circles for emergency vehicles on strategic roads in Nimbin, increasing the water supply capacity during bushfires by placing tanks in strategic locations and helping to upgrade technology at the Rural Fire Service's headquarters. The final details of these projects will be determined after consultation with the Nimbin community and Rural Fire Service.