Councillors call on Governments for COVID-19 assistance
Thursday, 02 April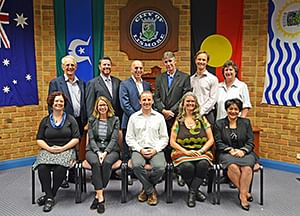 Lismore City Councillors have called on the Federal and NSW Governments to provide urgent assistance so that council can continue to provide the community with essential services during this critical time.
"Our community is still recovering from the devastating 2017 one-in-a-hundred-year flood that had a $7.5 billion economic impact on our region," the councillors said in a joint statement.
"And in the last six months, we have been hit by the drought which almost decimated our agricultural sector, sustained major damage across our Local Government Area as a result of the devastating bushfires and bore a significant burden operating a number of Evacuation Centres, and endured another flooding of our CBD in February that hurt local businesses.
"The community and Council's workforce are disaster fatigued.
"While Council is committed to providing support and maintaining essential services for our community, we urgently need financial assistance from both the Federal and State Governments as we deal with the COVID-19 virus.
"We request that the Federal Government urgently creates a process for approval and fast tracking of projects that Lismore has submitted to the Department of Infrastructure.
"That the Federal Government commits to funding job-creation projects immediately.
"That the Federal Government ensures all councils are fast tracked on the Job Keeper program and that this is announced immediately so that we can commit to retaining essential services.
"We also request that the State Government:
urgently approves the Growing Local Economies, Employment Lands proposal that has been with the NSW Government since July 2019 and forward the agreement for immediate execution so that Lismore City Council can retain employees and stimulate local businesses as they struggle with COVID-19
cease the waste levy charges to Lismore City Council effective from April 1 through to July 2021
Instruct Treasury Corporation (TCorp) to implement a loan hibernation period on all loan repayments effective from April 1 through to July 2021
Instruct TCorp to reduce their loan restriction ratios immediately
Release all road funding for grant-funded projects at the time of execution of the Deed of Agreement