Lismore Laneways Project to revitalise city centre
Thursday, 25 June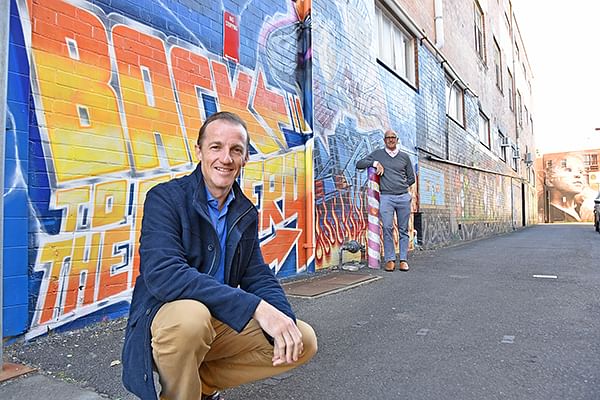 Lismore City Council has launched its new grant-funded Lismore Laneways Project and is calling on the community to help co-design and transform Lismore's inner-city areas.
In partnership with VEE Design, Fourfold Studio and DFJ Architects, the project aims to work collaboratively with local businesses and community members to bring new life and activation to some of Lismore's most under-utilised spaces.
Already rich with local art, the aim is to improve amenities to make the city laneways a destination that is truly unique to Lismore.
Lismore Mayor Isaac Smith said the Lismore Laneways Project is fully funded through a $510,000 NSW Government grant and will help to stimulate the vibrancy, safety and visitor appeal of the city centre.
"In late 2019, Council held workshops around the region as part of an extensive community consultation process to develop a new Economic Development Strategy. This included a collaborative engagement process which sought to understand community aspirations for the future of Lismore," Cr Smith explained.
"The revitalisation and activation of Lismore's laneways came through strongly in these engagement activities and was identified as a key priority. The Lismore Laneways Project will assist in activating underutilised land, support local businesses, create new public space at the city core, showcase local art, provide new space for activations and programs, and result in increased time and money spent in our city centre."
Harriet McKindlay, Placemaking Consultant with independent engagement specialists Fourfold Studio, said the project could not come at a better time to give businesses a sense of confidence in their city.
"We are eager to partner with local Lismore businesses, cultural organisations and community leaders to get hands on in shaping the direction of this project and bringing life to these spaces," Harriet said.
"We need people to own and love these spaces, and encourage greater activity by hosting dining, live music and pop-up activities, art installations, gatherings and community events.
"As part of the project, we will be developing partnerships between Council, local traders and the community to collaboratively design a destination that will increase visitation to the area and promote local spend, aiding in post-COVID recovery. It will also support the community to reconnect as restrictions on gatherings and community interactions are eased.
"Fourfold Studio are thrilled to be part of this project and we're excited to enliven and enrich these spaces with the support of the whole community."
Fourfold Studio are calling on businesses and community members to play an active role in shaping the project design and implementation by joining the Lismore Laneways Project Working Group.
Members will take part in an online workshop on 9 July to design a concept plan for the Lismore Laneways Project.
Registration is now open but places are limited so please register early to secure a place. For more information and registrations, visit
yoursay.lismore.nsw.gov.au
.
Image
: Lismore Mayor Isaac Smith and Lismore City Council's Manager of Major Cultural and Recreation Facilities Tony Duffy at the launch of the Lismore Laneways Project.